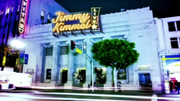 Jimmy Kimmel Live! is an American late-night talk show, created and hosted by Jimmy Kimmel and broadcast on ABC.
The nightly hour-long show made its debut on January 26, 2003, following Super Bowl XXXVII. Jimmy Kimmel Live! is produced byJackhole Productions in association with ABC Studios (formerly Touchstone Television). From its premiere until February 4, 2011, the show aired at 12:05 a.m. Eastern Time. The show now airs at Midnight Eastern Time since February 7, 2011.
Jimmy Kimmel Live! is no longer truly "live"; instead, it is taped at 7:00 p.m. Pacific Time on the day of broadcast (two hours before it reaches air on the East Coast), except in the event of reruns. On rare occasions, though, it airs a special live edition, usually after major events like the Academy Awards ceremonies. Until 2009, new episodes aired five nights a week, though currently the Friday episode is now essentially a rebroadcast of a recent episode. On April 14, 2009 after the March sweeps break, the show began broadcasting in720p HDTV.[1] However, ABC stations that air the show on tape delay due to local programming and do not have the capability to air tape-delayed network programming in HD air the show in 480i SDTV.
It is the only late-night talk show in the United States that doesn't tape in the afternoon,[2] and is the longest running late-night talk show in ABC's history, having lasted longer than The Dick Cavett Show (1969–1975) and Politically Incorrect with Bill Maher (1997–2002)