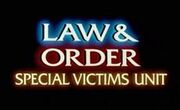 Law & Order: Special Victims Unit (often abbreviated to Law & Order: SVU) is an American police procedural television drama series set in New York City, where it is also primarily produced. Created and produced by Dick Wolf and airing on NBC, the series premiered on September 20, 1999 as the first spin-off of Wolf's successful crime drama, Law & Order. Having completed its 12th season, the series has produced 272 episodes to date.
Law & Order: Special Victims Unit originally centered almost exclusively around the detectives of the Special Victims Unit in a fictional version of the 16th Precinct of the New York City Police Department (NYPD). In the style of the original Law & Order, episodes are often "ripped from the headlines" or loosely based on real crimes that have received media attention. The show stars Christopher Meloni as Detective Elliot Stabler, a senior detective in the Manhattan SVU, and Mariska Hargitay as his partner, Detective Olivia Benson. As the series progressed, additional supporting characters were added as allies of the detectives in the Manhattan District Attorney's office and the Medical Examiner's office. Typical episodes follow the detectives and their colleagues as they investigate and prosecute sexually based offenses. The additional cast includes Stephanie March, Diane Neal, B.D. Wong, Tamara Tunie, Dann Florek, Richard Belzer, and rapper Ice-T.
Law & Order: Special Victims Unit is currently the highest-rated series of the Law & Order franchise, and presently NBC's top rated scripted drama. The series has been nominated for and won numerous awards, including the 2006 Emmy for Outstanding Lead Actress in a Drama Series for Hargitay (the first Emmy to be received by a regular on any Law & Order series).
On May 15, 2011, the show was renewed for a thirteenth season; however, Hargitay has asked for a lighter workload, and thus she will only be in the first 13 episodes with her character then being promoted.[1] On May 24, 2011 it was reported that Meloni will leave the series after failing to come to terms with his contract.[2] An announcement came on June 27, 2011 that Kelli Giddish of NBC's cancelled Chase andDanny Pino of CBS's Cold Case would be brought on as the new series regulars.[3]
Following the cancellation of Law & Order: LA and series ending of Law & Order: Criminal Intent, Law & Order: SVU will be the only Law & Order series still remaining on air as of the Fall of 2011.