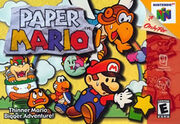 Paper Mario, known in Japan as Mario Story (マリオストーリーMario Sutōrī?), (originally known as Super Mario RPG 2) is a role-playing video game developed by Intelligent Systems and published by Nintendo for the Nintendo 64 game console. It was first released in Japan on August 11, 2000, in North America on February 5, 2001, and in Europe and Australia on October 5, 2001. Paper Mario was re-released for Nintendo's Virtual Console in 2007.
Paper Mario is set in the Mushroom Kingdom as the protagonist Mario tries to rescue Princess Peach from Bowser. To do so, he must locate seven "Star Spirits" to negate the effects of the captured Star Rod, which grants invincibility to Bowser. The player controls Mario and a number of partners to solve puzzles in the game's overworld and defeat enemies in a turn-based battle system. The battles are unique in that the player can influence the effectiveness of attacks by performing required controller inputs known as "action commands."
Paper Mario is the first installment for the Paper Mario series and is the predecessor to the GameCube game Paper Mario: The Thousand-Year Door, the Wii game Super Paper Mario, and the upcoming 3DS game Paper Mario. The game received a positive reaction from the media, attaining an aggregate score of 88% from Game Rankings and 93% from Metacritic.[1][2] It was rated the 63rd best game made on a Nintendo system in Nintendo Power's "Top 200 Games" list in 2006.[3]
It was first of the post-SNES Mario games not to feature the voice-acting of Charles Martinet.