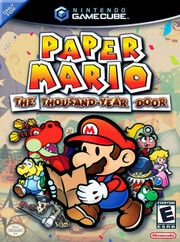 Paper Mario: The Thousand-Year Door, or Paper Mario 2, released in Japan as Paper Mario RPG (ペーパーマリオRPG?), is a console role-playing game developed by Intelligent Systems and published by Nintendo for the Nintendo GameCube. The Thousand-Year Door is the second game in thePaper Mario series.
The Thousand-Year Door borrows many gameplay elements from its predecessor, the Nintendo 64 game Paper Mario. These elements include a turn-based battle system with an emphasis on action as well as a paper-themed universe.[2] For the majority of the game the player controls Mario, althoughBowser and Princess Peach are playable at certain points.[3] The plot follows Mario's quest as he tries to retrieve the seven Crystal Stars and rescue Peach from the X-Nauts.
The game was well received by critics, with an average score of 88 percent from Game Rankings.[4] In general, critics praised the game's engaging plot and gameplay, but criticised it for not being a big progression from its predecessor. The Thousand-Year Door won the "Role Playing Game of the Year" award at the 2005 Interactive Achievement Awards.[5]