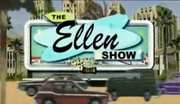 The Ellen Show is a television sitcom starring Ellen DeGeneres that aired during the 2001–2002 season on CBS. It was DeGeneres's second attempt at a sitcom, after These Friends of Mine/Ellen on ABC (1994–1998), but it was unable to garner strong ratings and was quickly cancelled.
After coming out of the closet as a lesbian on her first sitcom, DeGeneres's character on The Ellen Show, Ellen Richmond, was also a lesbian, although the show did not focus as heavily on the character's sexuality as did the final season of her first sitcom.
The Ellen Show also starred Cloris Leachman, Martin Mull, Kerri Kenney, Jim Gaffigan and Emily Rutherfurd.